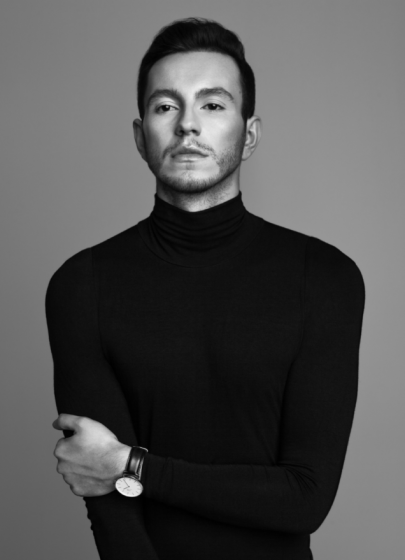 Polish born Adrian began his career as a fashion model for some of the world's best-known brands, including Yohji Yamamoto and Comms des Garcons, however he soon realised that with his love of art and creativity his true passion lay on the other side of the camera.
Since this realisation Adrian's work has been featured on the covers and pages of many leading fashion and beauty magazines including Vogue, Harper's Bazaar, L'Officiel, Wonderland, Rollacoaster, Elle, Glamour, Schon! Magazine among many others.
He has been the leading make up artist for popular TV shows like The Voice, Dancing with the Stars, So You Think You Can Dance, Clash of the Choirs, Your Face Sounds Familiar, Even Better Than The Real Thing (BBC One) and Pitch Battle (BBC One).
His work with some of the most influential photographers has led to an ever-growing list of celebrity clients including Nicole Scherzinger, Paris Hilton, Caroline Flack, Ewan McGregor and Grace Chatto. In addition an impressive list of advertising clients have also been keen to collaborate with Adrian with brands including Kryolan, Netflix, Reserved, Nivea, T-Mobile, Unilever, Avon and Adidas all showcasing his work.
London is lucky to have Adrian in residence, he is one of the nicest artists you could meet and is a truly exciting and talented make up artist.
NEO Make Up brings a new quality to the professional cosmetics on the market. "Perfection is simple" has always been our motto for perfect makeup - the one that NEO Make Up loves. Cosmetics designed with all women in mind. Global design and attention to detail distinguish NEO Make Up from other brands, and the carefully selected products satisfy everyone who loves makeup.

NEO Make Up was created to help women express and highlight their beauty. The brand shows that every woman can achieve professional makeup at home. Knowledge, inspiration and suitably designed and selected products are all you need. Everything is covered by NEO Make Up.